Not having their dog on board is like leaving a family member at home for many people. Boating with dogs can be a lot of fun, especially when your best friend finds being on the water just as relaxing as it is for you; seeing him running and playing on a deserted beach is a memorable experience for the dog and for his owner.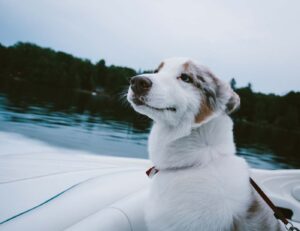 But it's essential to take precautions to ensure your four-legged friends are as safe and comfortable as your human friends while you're cruising. Before you take your dog out sailing for the first time, it's best to let him get used to the idea of ​​being in a boat or on the water. Let the dog come aboard the boat a few times while it's docked so he can get used to what it feels like and become familiar with the spaces. If the dog feels like she's in a friendly place, she'll be less likely to be stressed the first time she goes boating and experiences movement. Keep your first outing short, so your dog gets used to the motion of the boat.
To take into account:
Before sailing with the dog, the first thing you should do is get him a life jacket. You can find dog life jackets at most boating stores or pet supply stores. When you buy a life jacket for your dog, make sure it fits well and that the straps and buckles do not cause any discomfort.
Check that the lifting handles are strong to make lifting your dog out of the water easier and safer. A bright color on the vest will make it easier to spot your dog in the water in an emergency.
It's also very productive to give your pet a chance to get used to wearing her life jacket before getting on a boat. If you have the opportunity, it is also good for him to swim in your pool while wearing his life jacket before taking him to the sea.
While a dog life jacket is an important safety measure, remember that caution and common sense are still your pet's best friends.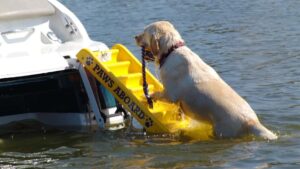 Although most dogs can swim, the sea causes fatigue, which can lead to drowning even in the most avid swimmers.
Also, invest in a GPS locator like the Raymarine LifeTag, which can be attached to any collar and is vital for rescue if your pet falls overboard while you're sailing.
When you expose your dog to the sea, something that he will undoubtedly enjoy a lot, avoid by all possible means that he drinks seawater. Since the atmosphere at sea can be warm and dry, your dog is at risk of becoming dehydrated quickly, so make sure there is plenty of fresh drinking water available at all times. If you go swimming with him, take a bottle of fresh water with you the first few times and try to get him to drink to prevent him from drinking the seawater.
On the boat, while the dog is outdoors, provide a shaded area; excessive exposure to the sun can cause problems. If the dog feels excessive heat, he will only seek the protection of the shade. Keep in mind that dogs absorb heat through their paw pads. On days of extreme heat, protect them with covers since the flat surfaces of the boats can get very hot in the sun.
Walk your dog so he can relieve himself before boarding. If your stay in the water will be prolonged, you can train it to go to a specific place on the ship. If the boat's surface allows it, you can prepare that particular place with a different texture, like synthetic grass. The area in question must be an outside place with easy access for the dog and very easy to clean. Don't forget to bring plenty of dog waste bags and paper towels on your trip, as well as an odor neutralizer.
Making a yacht pet-friendly is something many owners do early in the design process. Custom lawn patches for dogs to relieve themselves are pretty standard. But most of the accessories to make the boat safe and comfortable for your dog can be incorporated into existing boats. Gangways with steps that allow the dog to enter the water and return to the boat autonomously and safely, additional railings, and washing stations are just some of the options.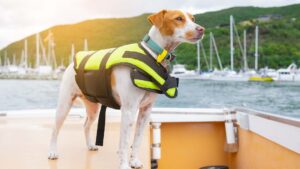 Another important recommendation is to take the dog to the groomer before getting a haircut. The shorter the fur, the less sand, and salt will be distributed throughout the boat. After leaving the sea, always lather the dog with a mild shampoo and rinse it with plenty of freshwaters to prevent injuries to its skin. If you are going on a long trip, do not forget to take a nail clipper.
Lastly, remember there are no vets in the water. So it's vital to be prepared with all of your dog's medications and first aid supplies.
Keep in mind that these simple tips can help you integrate your dog into the boat and make the most of your journeys. Your dog will enjoy the outdoors and the time with you. Good planning always collaborates with good navigation. The incorporation of your dog into the ship is not an exception.