The MCY 70 is an elegantly comfortable yacht boasting a highly accomplished design with large living areas. Each element seeks a perfect harmony between functionality and aesthetics.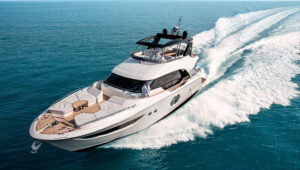 The new MCY 70 perfectly embodies the values of Monte Carlo Yachts, and the Nuvolari Lenard design emphasizes the yacht's personality as a home away from home. The special attention dedicated to the larger interior volumes and the enlarged exterior entertainment areas where the glass surface increases the quality and quantity of light, creating a more immersive relationship with the ocean and the outdoors, is noticeable.
INTERIOR
The interior decoration of the new MCY 70 is unique and elegant, using geometric patterns and linear structures to provide a warm and contemporary living experience. Reflective materials and lacquered wood emphasize light in all interior spaces. A natural wooden floor softens these elements, and vertical panels are covered in delicate fabrics, which contrast the lacquered interiors pleasantly.
Monte Carlo Yachts has long been inviting owners' wishes to customize the layout to their needs, and now that ability takes on a whole new meaning. In this first launch of the new design, the salon is located at the stern and offers a 360-degree view. An L-shaped sofa sits to port with opposite chairs to starboard. The large number of windows surrounding the entire main deck is interrupted only by the thick mullions that support the weight of the upper deck and provide impressive views while giving the impression that there are no bulkheads in this area.
DESIGN AND TECHNOLOGY
Other defining features of the new yacht include a carbon fiber T-Top inspired by MCY's larger models with side stanchions for a 360° view of the seascape and an extended Flybridge with a fully customizable lounging area and catered tables by a kitchen for a private and elegant al fresco dining experience.