Many boaters avoid nighttime journeys, but a nocturnal voyage is a fascinating experience. For it to be delightful, the crew must possess the necessary knowledge, and the boat must be equipped with the proper technology for the journey. When darkness envelops the boat, everything becomes an unfamiliar environment. The colors around you fade, and distant lights twinkle. For many sailors, this inspires respect and sometimes uncertainty.
It's worth noting that sailing in open waters is a different experience than cruising in a bay or along a coastline. Paradoxically, in calm weather, nighttime navigation in open waters is much safer than in confined areas, primarily because there's little to see in open waters except for the lights of buoys, towers, or other vessels. In coastal areas, bays, or channels, you must be highly vigilant about surrounding traffic, sudden depth variations, obstacles, and a high presence of marking buoys.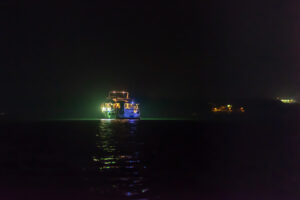 Regardless of the case, some preparation is required for a relaxed nighttime journey, ideally under a clear summer night sky with good weather and moderate breezes.
The better the preparation and planning, the safer the entire crew will be. A clear distribution of roles before setting sail can be very useful in an emergency, especially if there is an uneven level of experience among the crew. In such cases, the most experienced crew member should always be available. Careful route planning in advance also helps avoid nighttime stress. Suppose the final destination is a foreign port that has yet to be visited before. In that case, it's advisable to have a route plan that determines the departure time based on the distance and estimated boat speed, intending to arrive in daylight.
Buoys and Navigation Aids
Nighttime navigation heavily relies on buoys and other navigation aids to chart a safe course. Buoys are typically equipped with lights, colors, and markings that convey vital information. Red buoys have even-numbered markings and should be kept to the right when entering a harbor. Always remember the motto: "Red, right, returning." Green buoys have odd-numbered markings and should be kept to the left when heading into a harbor.
Illuminated buoys have features like steady lights or flash patterns that help identify their position and meaning. It's crucial to pay close attention to their lighting patterns and colors, which are specific to the location and purpose of each buoy.
Navigation Instruments and Tools
Nighttime navigation requires a greater reliance on instruments and tools to maintain a safe and precise course. A GPS combined with a chartplotter is indispensable for accurate navigation, providing real-time information about the boat's position and the surrounding waters. However, a reliable compass is a backup navigation tool and helps you maintain a steady course in case of electronic device failures. A depth sounder to continuously monitor water depth is crucial, especially at night, to avoid running aground or colliding with submerged obstacles. Another invaluable and essential device is radar, particularly in conditions of reduced visibility. To navigate at night, it's important to learn the variety of radar functions for effective use. Understanding how to interpret radar screens to identify other vessels, land, or obstacles is essential, as is practicing differentiating stationary objects from moving boats.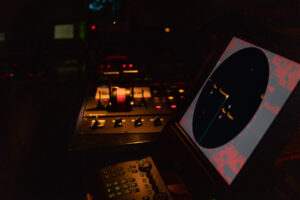 Visibility Tips
Maintaining clear visibility is essential for safe nighttime navigation. Ensuring that all boat navigation lights are working is crucial. Dim interior lights help preserve night vision. Minimizing light pollution on the boat by turning off as many interior lights as possible is important. A powerful spotlight or searchlight can be useful for illuminating the surroundings when needed. Non-essential but helpful accessories include night vision goggles and binoculars to improve the ability to see in the dark.
Planning and Preparation
Thorough planning can be the key to a successful nighttime boating adventure. It's important to inform someone on the land about the planned route and estimated arrival or return time. Providing additional information about the boat's characteristics and its crew can be crucial in case an event prevents reaching the destination or disrupts communication. Staying constantly informed about weather conditions is another top priority, as weather changes often affect visibility and sea conditions. Equally important is a thorough and detailed check to ensure that all safety equipment, including life jackets, flares, and fire extinguishers, is on board and in good condition.
Safety Tips
Ensuring safety is paramount when operating a boat at night. In this regard, "four eyes" always see more than two. Designating a lookout within the crew who can be as vigilant as the captain can help detect other vessels or potential hazards. Operating the boat at a safe speed, allowing the necessary time and space for maneuvering in case of unexpected events, can prevent accidents. Overeating, consuming alcohol, or any medication that may alter behavior is incompatible with boating. Similarly, when facing a nighttime journey, it's crucial to be well-rested, and if any crew member experiences drowsiness during the journey, asking another crew member to take the helm is important.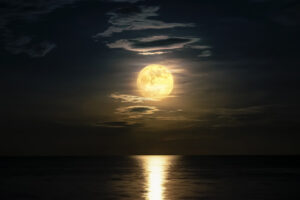 Conclusion
Nighttime navigation can be a gratifying experience, offering tranquility and breathtaking water views, especially under a full moon. However, it requires careful planning, equipment, and heightened safety awareness. With a good plan, it's possible to enjoy the magic of boating at night while ensuring the crew's and others' safety on the water.