Before buying any used boat, you should do your homework. Research the different types of boats, brands, and models you are interested in and current market prices. Researching local laws and regulations regarding boat ownership and use is also important. Doing your research beforehand will help you make a more informed decision and avoid regrets in the future.
If this is your first experience buying a boat, consider what you will use the boat for. Are you going to fish, water ski, or do you plan to go on long trips and live aboard for long periods? The type of boat you choose should be tailored to your specific needs and intended use. For example, if you plan to spend long periods on the boat, you'll want to consider a boat with ample living space, while if you plan to fish, a fast boat with a large deck and ample storage for fishing gear would be more suitable.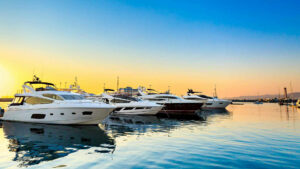 The size and capacity of the boat must also be considered. A boat that is too small for your needs will be uncomfortable and limit your ability to enjoy your time on the water. On the other hand, a boat that is too large for its intended use can be challenging to maneuver and maintain and more expensive to operate.
If you have small children, safety-focused on them is essential, and it is also convenient to think about onboard entertainment for them.
Before deciding, you must thoroughly inspect the hull, engine, electrical systems, electronics upgrade, and other major components to identify potential issues. Consider hiring a specialized inspector to perform a detailed inspection and get a full report of the actual condition of the boat.
Age and History
The age of the boat is an important factor to consider. In general, newer boats are less likely to have problems or require major repairs, but they also come at a higher price. If you are considering an older boat, it is important to research its history and maintenance records. A boat with a history of neglect or poor maintenance could cost you more in repairs than a newer, well-maintained boat. The way to measure the age of a ship is not reduced only to the year of its manufacture and the date of its launching. The number of hours on the engines, whether you were running in saltwater or freshwater, whether you've "slept" in the water or "rested" on a Boat Lift are also often wearing indicators worth considering.
Hull Inspection
Hull inspection is one of the most important parts of buying a used boat. Look for any signs of damage, repairs, or patches. If you discover structural damage, which can be a costly and dangerous problem, the best decision is to avoid that purchase. A key point is the search for water inside the inner fiber layers in the hull. An alarm signal is the "blisters" in the lower part of the hull.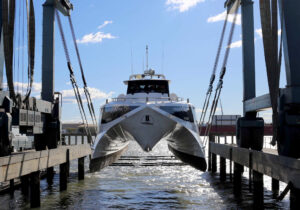 Those "blisters" are usually a manifestation of water inside the hull. A specialized inspector to do what is called a "Survey," or complete inspection, will surely use a sensor to detect water in the hull. We highlight this point because it is a problem that can involve a costly repair and increase the boat's weight by up to 50%. It strains the engines, reduces the planing ability of the boat, and dramatically increases fuel consumption.
Engine Inspection
Engine inspection is crucial. If the motor(s) are not working well, the cost of repairs can be very high. The inspector must conduct the necessary tests to determine the real condition of the engines. Measuring the compression in the cylinders, checking if water is mixed with the oil, and checking for corrosion rates in the exhausts are just some of the steps to follow in the engine inspection.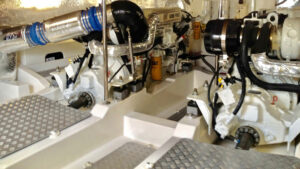 Navigation Test
Before you buy a used boat, be sure to test it on the water. It will give you an idea of how the boat runs, its stability, the performance of the engines if they don't get a high temperature, if they don't smoke from the exhausts, and how it responds in different sea conditions. It is also a perfect opportunity to check the instruments and electrical and navigation systems on board.
Documentation
Verify all of the boat's documentation, including title deeds, records, bills for maintenance and repairs, and any documentation related to outstanding debts or mortgages. The involvement of a marine documentation specialist is vitally important to ensure a transparent and fast transfer of ownership.
Equipment and accessories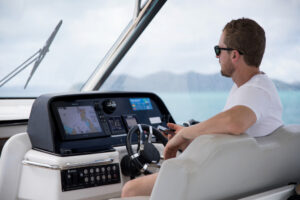 In addition to the boat itself, it is also important to consider the equipment and accessories that will need to be added or renovated. It can include the fire fighting system in the engine compartment, safety equipment, navigation systems, life jackets, and any other accessories you need to improve control of the boat and ensure safe navigation.
Buying a used boat in the United States requires careful research and evaluation before deciding. Be sure to review the different types of boats, perform thorough hull and engine inspections, do a water test, check the documentation, and consider any additional costs associated with boat ownership. Hiring a complete examination by a licensed professional will cost you extra money, but it will help you make the best-informed decision to save you money and a lot of heartaches.
With a little method and care, you can find a used boat that will give you many years of enjoyment on the water.