The kitchen of a yacht, at first glance, offers some limitations: Limited storage space, small refrigerators, kitchen utensils available, cramped sink, or little prep table. But it is not to be intimidated. The most important thing is to ask the right questions before you leave and prepare correctly to ensure a great dining experience onboard.
How long will we sail? Is this a day trip, or are we going on a cruise for two weeks? If the departure is for a long time, will we have scales that provide provisioning places? Will there be vegetarians onboard? Vegans? Celiacs?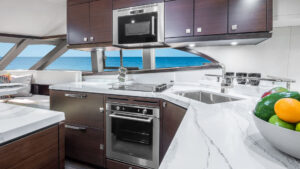 Of course, the size of the yacht matters. In most cases, a 65-foot boat offers more generous galley and storage spaces than a 35-foot boat.
So, having answered the first questions, the size of the available spaces must be carefully reviewed and thus establish a hierarchy of priorities to allocate those spaces. It is recommended to start by prioritizing those non-perishable items that will be difficult to obtain at the stopovers of the trip, such as spices, oils, or canned goods from preferred brands.
When it comes to equipping the ship's kitchen with the necessary tools, it is important to identify storage spaces in areas peripheral to the kitchen to store the electrical appliances that generally take up a lot of space in drawers, cupboards, or on the dining table. That way, you can have a wide variety of tools without taking up space in the specific kitchen area.
Here are the five most important things to keep in mind:
Plan ahead.
Whether the outing involves just dinner on board or a two-week voyage at sea, it's essential to think carefully and write out a meal plan ahead of time. A ship far from a port means it is impossible to run to a store to buy the food we forgot to bring. Written menus help define the order of food storage in a freezer. On a long trip, it's important to design your menu, considering using foods that spoil quickly (like lettuce and tomatoes) first and leaving more durable foods (like cabbage and potatoes) for later use.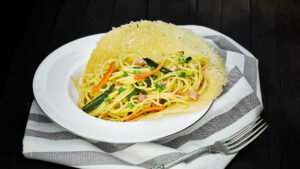 Prep Meals Ahead
At home, everything is more accessible. Therefore, anticipating can mean a great benefit when cooking on board. If there are foods on the menu that, for example, require the preparation of sauces, these can be made previously at home and taken to the ship's freezer.
A cooking method is advantageous when planning: the "Sous Vide" kitchen. This system, which involves pre-cooking different vacuum-packed dishes at a constant temperature, is an excellent solution for preparing sophisticated meals at home ready to be finished on board. If the yacht has a Grill, any meat cooked to your liking can be taken, after cooking in "Sous Vide," directly to the ship's freezer. To finish it, you just have to defrost it, take it to the hot grill for 4 minutes per side, and… voila! Ready to serve.
The same technique applies to chicken, fish, and even vegetables.
Another success is to take to the ship the already cleaned and cut vegetables vacuum packed in the necessary quantities for each meal to be prepared.
Planning helps the Chef onboard reduce time in the kitchen and saves significant amounts of water required in each process.
Space management
A ship's kitchens are small and have small work tables. The good idea is to wash tools, boards, and dishes as they are used during the cooking process since sinks are usually not very large. Cooking stoves are often limited in size, so it is essential to anticipate the number of items that will need to be cooked simultaneously to ensure that this is possible. A hot fettuccine with a cold sauce is not something that should happen.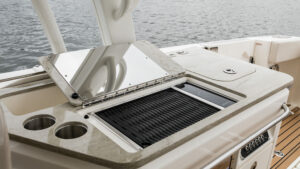 The proper tools and kitchen equipment.
Although it is convenient to equip the kitchen with all the appropriate tools, the possibility of having all the equipment that you have at home is utopian. A couple of good knives and a non-wooden cutting board are always a must. Collapsible silicone tools like bulky strainers work well in cramped boat cabinets, like bowls and pots with removable handles. It is crucial to keep oven and microwave measurements in mind when choosing baking dishes to fit the oven.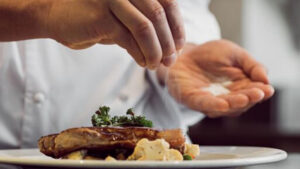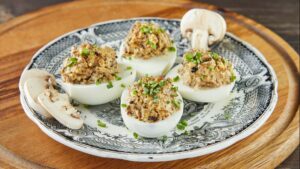 Adjust expectations
The Chef can prepare an excellent meal on board, but you should focus on the art as much as possible. That is why planning is so important. For example, it is very unlikely to get the same cooking temperatures that are available at home. Therefore, avoid those recipes that require tools or an environment that does not exist on a boat to guarantee a good result.On the plus side, food tastes better at sea, so even the simplest of meals will be enriched by the experience. Alfresco dining under the stars sheltered by a gentle sea breeze is an unbeatable opportunity to savor cleverly planned delicacies.
Alex Gasquet. ©UsaOnboard 2022