The latest iteration of this "Open Yacht" boasts a technological and stylistic revival, delivering a unique and emotionally charged experience to all brand enthusiasts. A timeless classic with the perfect blend of agility, power, and elegance, this new version pens a new chapter in Itama's history, rekindling the love of sailing in direct contact with the water.
With a blue hull and a deck completely coated in teak, this new version is an ode to intelligent navigation, featuring a technological upgrade that enhances functionality while preserving the boat's original spirit.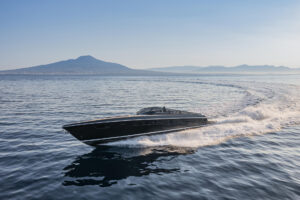 The cabin layout is designed to maximize space and provide the most authentic nautical experience possible. A large sunbathing area in technical grey fabric precedes the dining and lounge area, furnished with a "C"-shaped sofa arranged around a fixed steel and wood table, customizable to the owner's preferences, along with a bar cabinet on the left.
At the bow, protected by the large wraparound windshield, is the helm station, featuring a redesigned dashboard with digital instrumentation seamlessly integrated with a plotter sporting two 12-inch screens (available with a 16-inch screen in the optional version) for easy and enjoyable navigation. The yacht's helm stays true to Itama's spirit, adorned with glossy varnished teak and the logo in the center. Like all models from the brand, the fully open deck now boasts flush skylights, providing a panoramic and uninterrupted view of the horizon. To make the onboard experience even more enjoyable, there's a central walkway in the windshield with a pantograph opening mechanism.
Below the deck, multiple customization options maintain the perfect arrangement of the interior spaces despite a comprehensive overhaul. The day area includes a comfortable living room in light colors and walnut wood, a dining area with a movable table that can be converted into an additional sofa bed, and a galley with a "C"-"-shaped layout and white lacquered wooden furnishings. The galley layout has been redesigned from top to bottom, now offering maximum comfort and even more brightness thanks to the addition of another porthole that opens. The forward night area houses the owner's suite and two guest cabins, each with a private bathroom and two double beds.
PROPULSION AND PERFORMANCE
The deep 20° V-shaped hull, a hallmark of Itama, ensures unparalleled seaworthiness. The aramid fibers used in the hull lamination process provide stability and strength, even at high speeds.
The Itama 62RS is equipped with engines that deliver performance in line with its yacht predecessors: two 1,400 hp MAN V12 units offering a cruising speed of 37 knots and a maximum speed of 40 knots. The main novelty is the option to install a Seakeeper NG9, which provides enhanced stability at anchor and during navigation, ensuring even greater onboard comfort. Finally, the flaps of the previous version have been replaced by Humphree interceptors to improve trim while at sea.
The new 62RS incorporates new functional and design features, combined with technological innovations, making its Itama DNA even more original and unique. That unmistakable Mediterranean spirit and those uniquely elegant and sporty lines have earned these magnificent vessels the distinction of being called "designed by the sea."