There are other larger yachts with sails but those are considered sail-assisted as a complementary propulsion system. With its three 70 meter high carbon masts, the Black Pearl can deploy 2,900 square meters of sail with the world's largest Dynarig system. The masts have an automated folding system that allows the safe passage of the yacht through the Panama Canal. The Dynarig system uses independent masts with swinging arms from which sail panels can be deployed at the touch of a button. This modern system allows a single crew member to put the yacht under full sail in less than seven minutes.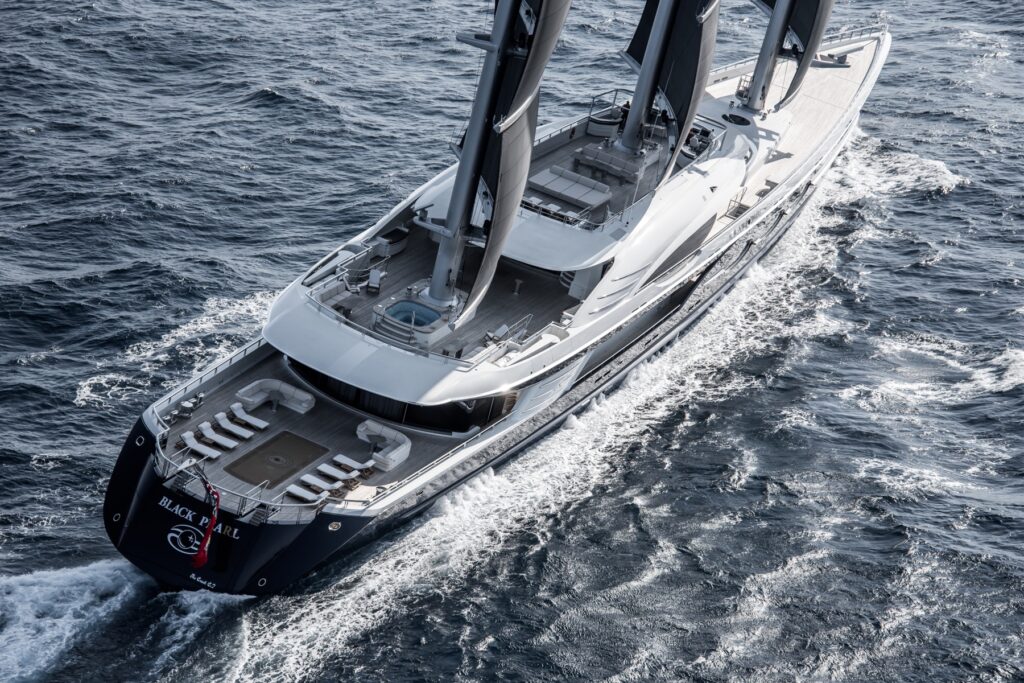 From the origins of its conception, the Black Pearl was designed and built as efficiently as possible from an energy point of view. She features hybrid engines and a large battery bank designed by BMT Nigel Gee of Southampton.
During sailing, the ship's propellers spin in reverse, generating up to 480kW of power for use and storage on board. This allows the boat to run quietly for extended periods. The Black Pearl produces enough energy at 11-12 knots to keep the generator off most of the time. In good winds, she should be able to cross the Atlantic without burning a single drop of fossil fuel, according to the builder.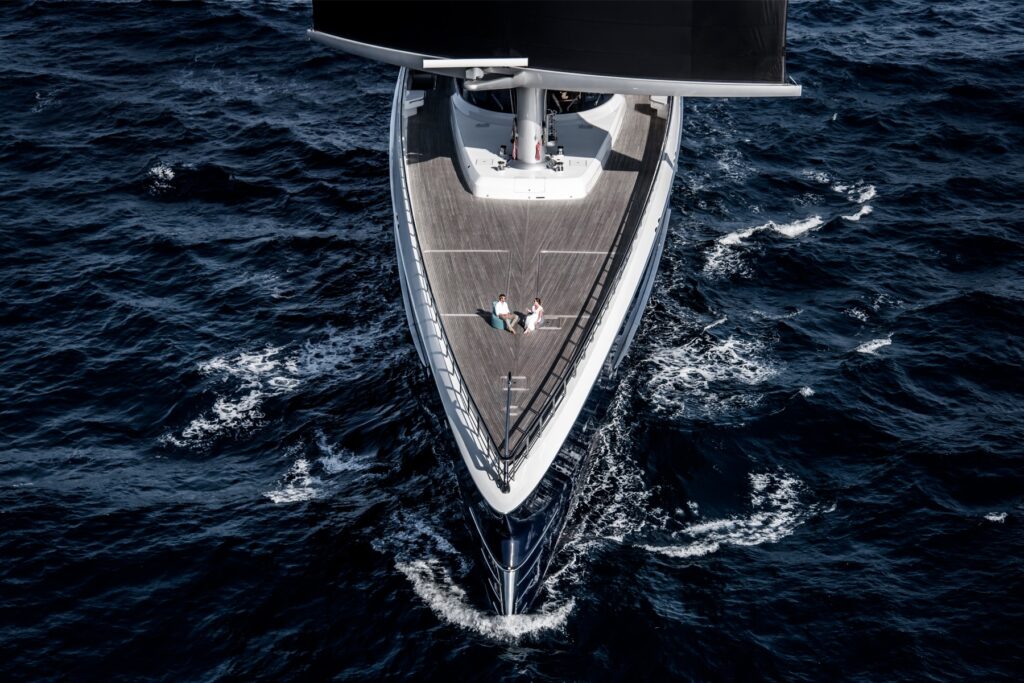 With electric propulsion, the yacht can reach a speed of 17.5 knots, while propelled by sail, it can reach up to 30 knots.
Details of the Black Pearl interior have never been shared with the public. What is known is that she has been designed with a Louis XVI style vision. One of the designers described it as "quite Russian" with "quite a bit of gold."
The ship's interior design is quite unusual. The owner emphasized the main salon and an extensive private study, sacrificing location and space for the master stateroom, which is modestly located on the lower deck. In addition to the Master, there are only four additional guest cabins.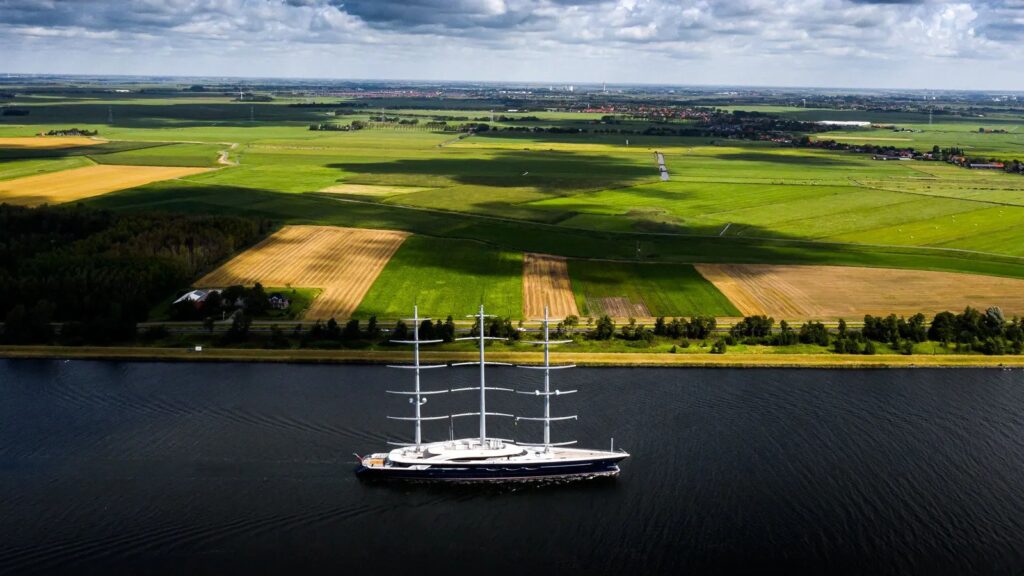 Other interior highlights include a 4,000-bottle wine cellar with a tasting room, a beach club whose ceiling has been designed with LEDs to replicate nighttime constellations, and a combined cinema sky lounge on the upper deck.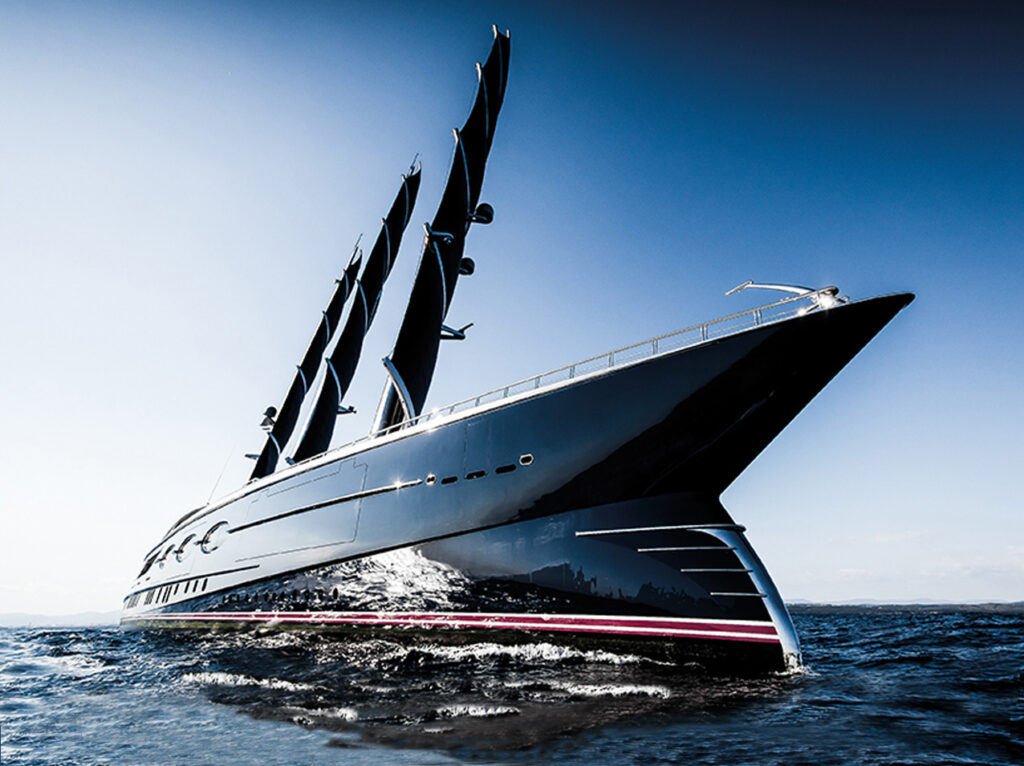 The Black Pearl is unlike any yacht the world has ever seen.