From the beginning, Cigarette AMG boats have displayed styling that reflects the best attributes of special edition Mercedes AMG cars, combined with the power provided by Mercury Racing engines. Both companies often use carbon fiber and lightweight materials to lower weight and improve performance in the boat's construction.
The latest combined version of this marriage of powerhouses is the Cigarette Racing 41 Nighthawk Black Series, delivering 2,250 horsepower from five supercharged Mercury Racing V-8 engines. The special edition of this Cigarette Racing 41 Nighthawk is accompanied by the Mercedes-AMG GT Black Series, with a power of 720 horsepower in its twin-turbo V-8 engine.
This canister, in AMG's orange and black colors, is the 13th collaboration between Mercedes-AMG and Cigarette.
The 41-foot Nighthawk AMG Black Series Edition is based on Cigarette's advanced engineering, utilizing cutting-edge, high-tech elements brought to it by AMG. A center console design with a low center of gravity and reduced overall weight thanks to a carbon fiber platform that dramatically improves performance. The use of composite materials and exclusive construction techniques enhances structural integrity.
The Cigarette 41′ Nighthawk AMG Black Series promises exceptional performance, exhilarating driving pleasure, and the highest quality down to the smallest detail, the fruit of an intelligent exercise of shared philosophies.
The exceptional attention to detail continues inside this special edition Cigarette. The interior is primarily gray and black, with distinctive orange accents, tying the exterior color scheme with the attractive interior design.
The boat also features exclusive Cigarette Cool upholstery, which dissipates heat so dark colors can remain comfortable, even when exposed to constant sun and heat. The forward helm seats consist of two rows (three seats per row), with the front row height adjustable, allowing the captain to achieve an ideal custom seat height for spirited sailing. This helm seating arrangement is advantageous for sporty driving, as you can have six people comfortably seated, facing forward, behind the center helm. At the stern of the boat is an "L" shaped lounge and a set of "U" shaped seats at the bow.
The control panel features three Garmin 8617 multifunction displays flush mounted to an instrument panel CNC cut from a solid aluminum block. This protective coated instrument panel is resistant to heat, glare, and fingerprints, while the perimeter of the panel is uniquely illuminated by a RGB LED decorative lighting provides a distinctive glow and creates the illusion that the board is floating. Passengers can feel safe thanks to the stainless steel grab bars and relax in complete comfort.
The 41-foot Nighthawk AMG Edition also impresses with its advanced control interface design. Control of the vessel is achieved through a sophisticated digital switching system. This system offers a simple and friendly control of all systems on board.
In addition, by drastically reducing the weight of the cables inside the boat, its overall weight is reduced, further improving its performance. The same goes for its lithium-ion battery system, which further reduces weight and eliminates traditional batteries' need for maintenance.
Recent history:
In previous years, Mercedes AMG and Cigarette have presented, each year, a special edition of boats aligned to a car from the German house. Here is a review from 2013.
2020. Cigarette Tirranna AMG Edition
The 2020 Mercedes AMG – Cigarette Racing Special Edition was launched with the 59-foot Cigarette Tirranna AMG Edition, paired with a Mercedes-AMG G 63 Cigarette Edition.
This duo set new standards in terms of performance and design, striking the perfect balance between a luxury yacht and a Center Console focused on speed and high performance.
2019. Cigarette AMG Carbon Edition
In 2019, the star of the duo was made up of the 41-foot Cigarette AMG Carbon Edition. As the eleventh co-developed boat, this special edition set new standards in terms of performance, handling, and versatility. Its lightweight construction and design were inspired by the 4-door Mercedes AMG GT 63 S Coupé.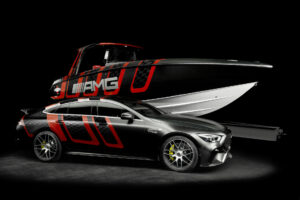 2018. Cigarette Racing 515 Project ONE
Designed from the ground up using the latest technologies, the Cigarette Racing 515 Project ONE was inspired by the highly anticipated Mercedes AMG Project ONE supercar.
The Cigarette Racing 515 Project ONE is 51.5 feet long and features an increased beam of nearly 10 feet, allowing six passengers to sit comfortably.
Mercedes AMG and Cigarette Racing share a similar DNA; both companies have triumphant roots in racing and are still dedicated to this passion.
2017. Cigarette Marauder AMG
Mercedes AMG and Cigarette Racing introduced the 50-foot Cigarette Marauder AMG boat in 2017. Inspired by the impressive Mercedes-AMG GT R, the Marauder was designed and built for high speed. Distinctive Green Hell Magno paint accents on the boat create an instant connection to the Mercedes AMG GT R.
This version has been surprising for its powertrain: it's powered by a pair of Mercury Racing 1550/1350 QC4v (Quad Cam 4 Valve) engines, and M8 stern units, offering up to 3,100 horsepower.
2016. Cigarette Racing 50 Marauder
In 2016, the Mercedes AMG Formula 1 Team drivers Nico Rosberg and Lewis Hamilton met in the Monaco Grand Prix run-up for a sensational off-track event. With the motto "Speed and style," the two drivers proved that modern luxury and racing performance worlds blend perfectly.
The Cigarette Racing 50 Marauder was equipped with the most powerful twin production engines, Cigarette used at the time. Two 1,550-horsepower Mercury Racing V8 engines powered the fifty-foot-long, nearly 9-foot-wide boat to an estimated speed of more than 142 mph (more than 228 km/h).
2015. Cigarette Racing Team 41′ SD GT3
The Cigarette Racing Team 41′ SD GT3 was powered by a pair of 1100 horsepower Mercury Racing engines. The boat, 41 feet long and 11 feet wide, could have a limited top speed of over 100 mph with a weight of just over 20,000 lbs.
The design, equipment, and cockpit reflect the dynamic characteristics of the Mercedes AMG GT3.
2014. Cigarette Racing 50 Vision GT Concept
In 2014 both vehicles, boat, and car, were developed practically simultaneously. The Cigarette Racing 50′ Vision GT Concept was a unique special model and the most powerful in its class.
The collaboration between the Cigarette Racing Team and Mercedes AMG created unique elements for the Cigarette Racing 50′ Vision GT Concept, incorporating a stunning Alubeam-painted exterior, including a custom matte black hull.
2013. Cigarette AMG Electric Drive Concept
That year, Mercedes AMG and Cigarette Racing, inspired by the SLS AMG Coupé Electric Drive, developed the Cigarette AMG Electric Drive Concept version.
The installed high-performance propulsion made the motor boat the fastest and most powerful electric boat in the world then. With an output of 1,656 kilowatts and a maximum torque of 3,000 Nm, the "AMG Electric Drive Concept Cigarette" was a fascinating development.
The design and equipment reflected the dynamic characteristics of the "Cigarette AMG Electric Drive Concept." Cigarette Racing's unique sports seats were paired with various carbon elements in the cockpit.