Imperial Yachts and its Moscow-born founder, Evgeniy Kochman, have prospered rapidly by satisfying their clients' desires for huge luxury ships.
For a Russian citizen with hundreds of millions of dollars to spend, Kochman's company handles everything: oversees the construction, hires the crew, manages the day-to-day operations of the ship, and deals with renting it, selling it, changing its flag or transfer it urgently if the yacht is in danger of being seized. Another company, also run by Mr. Kochman and under sanction, BLD Management, provides a similar service for luxury villas on the Mediterranean coast.
Kochman, 41, started the yacht business in Russia in 2001, a year after Putin took power, selling Italian-made yachts. Russia had been through a decade of turmoil after the collapse of the Soviet Union, and many of today's oligarchs had yet to amass their billions. But Kochman, then just 20 years old, had plenty of millionaires to court.
When some well-connected Russians joined the ranks of the world's richest people and began buying up villas on the French and Italian Rivieras, Kochman moved to Monaco. Instead of selling mere yachts, often built on a production line, Kochman and his sister Julia Stewart entered the world of superyachts; custom-built boats generally over 150. "We grow with our customers as parents with babies," she said in 2016 in one of the few interviews Kochman has given.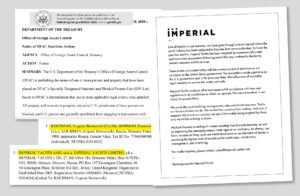 The rise of Imperial Yachts has benefited many companies across Europe, including German shipbuilders, Italian carpenters, French interior design firms, and marinas across the Mediterranean, which together employ thousands of people. Imperial Yachts is at the center of what is essentially an oligarchic industrial complex, which oversees the flow of billions of dollars from politically connected Russians into that network of companies, according to interviews, court documents, and intelligence reports from security agencies and the justice of the United States.
The presence of Russian citizens possessing a dozen passports from different countries scattered around the world is not a novelty. It's a three-decade-old phenomenon that has been growing as more and more power-bound Russian citizens have rapidly become rich due to dealings with a corrupt and violent government. The world dubbed them Russian Oligarchs. It is enough to visit the marinas of the Mediterranean, the private airports of all Europe, or walk through the streets of Sunny Isles in Miami to run into them.
Europe and the United States have accepted ill-gotten Russian money for many years without asking too many questions about its origin. A complex network of shell companies and banking triangulations in tax havens intends to "clean" billions of dollars before being allocated to purchasing super-luxury goods.
This lax supervision of the origin of funds distributed by Russian citizens worldwide ended with Russia's invasion of Ukraine. With Russian military actions advancing, the United States established a task force called KleptoCapture, intending to disrupt the Russian war machine by going after the assets of Putin-linked oligarchs. After some high-profile raids and seizures, US authorities target the network of enablers working outside Russia. Investigators from the F.B.I., Treasury, and various intelligence agencies are gathering evidence showing that companies and individuals knowingly aided Russians under sanctions whose wealth was derived from corruption, leaving them vulnerable to US charges.
In an interview, Andrew Adams, a federal prosecutor who leads the task force, said that "targeting the people who make their living by providing a vehicle for money laundering is a key priority."
Imperial Yachts and BLD are now under the scrutiny of the US government. In searching for the enablers, US and European investigators have been confronted with a deliberately confusing ownership structure involving chains of shell companies stretching from the Marshall Islands to Switzerland.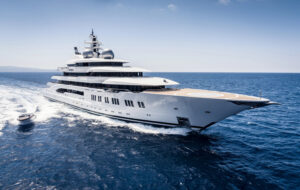 The US government is waging a court battle to seize the AMADEA superyacht. Documents obtained from the Amadea by US officials show Imperial Yachts' role in managing the purchase and transfer of assets of hugely wealthy Russian citizens linked to corruption.
Along with the Amadea, Imperial Yachts oversaw the construction of the Scheherazade, a 700 million superyacht that US officials say is linked to Putin, and the Crescent, which Spanish police believe is owned by Igor Sechin, chairman of the state-owned oil giant Rosneft. The same fate befalls the Flying Fox Super Yacht.
A secret US intelligence assessment concluded that the money to build the ships came from a group of investors headed by Gennady Timchenko, Putin's confidant and one of Russia's richest men, who, like Mr. Sechin, has been under US sanctions since 2014. According to the investigation, Timchenko and his associates designed the Scheherazade as a gift for Putin's use. Together, the three Megayachts may have cost as much as $1.6 billion.
Simon Clark, a lawyer for Imperial Yachts, said the company "is not aware of any connection between our business and Mr. Timchenko. However, we are in the yacht-building business; we are not involved in our client's financial affairs." Mr. Clark added that the company has "never done business with or provided services to any parties subject to international sanctions."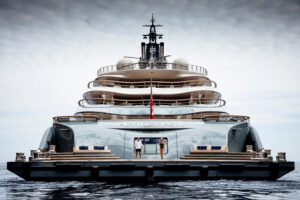 But US officials do not believe in such explanations. Elizabeth Rosenberg, Under Secretary of the Treasury for Terrorist Financing at the Treasury Department, said it was the responsibility of people in the yacht service industry to avoid doing business with people under sanctions.
In an affidavit, Timothy J. Bergen, special agent for the Federal Bureau of Investigation, said that Imperial Yachts, which he refers to as "Company A" in his affidavit, "has a recurring practice of concealing ownership of yachts behind nested shell companies" and using front men like Mr. Khudainatov "to hide the real owners of the yachts".
Today, Imperial Yachts are not active. On its website, you can only read a statement from the company that states:
"Like all leaders in our business, we have been through a recent period where the yachting industry has been the subject of consultation by some authorities, but in recent months Imperial Yachts has been the target of numerous unsubstantiated and unsubstantiated allegations. inaccurate after events that are not related to this family business and its services.
These events culminated today with the announcement of sanctions against our company by the United States government. The accusations made against us by the United States government and the press are false. We will pursue all available legal resources to resolve this matter immediately. Imperial Yachts conducts all of its business in full compliance with the laws and regulations in all jurisdictions in which we operate. We do not get involved in the financial affairs of our clients."